GRIN is built for ecommerce brands
Ship products & know when they arrive, create & manage discount codes, pay influencers commission on sales & so much more.
Get a Live Demo
See how GRIN can 10X your influencer marketing today
No other software does it all like GRIN
GRIN is the only influencer marketing software that is designed specifically for your eCommerce brand. Our all-in-one eCommerce shop integrations offer a full suite of features to make your workflow seamless.
Import Products
Create Orders
Sync Inventory
Order Tracking
Discount Codes
Product Selection
Want to see GRIN in action?
Take a quick tour of your ecommerce GRIN integration workflow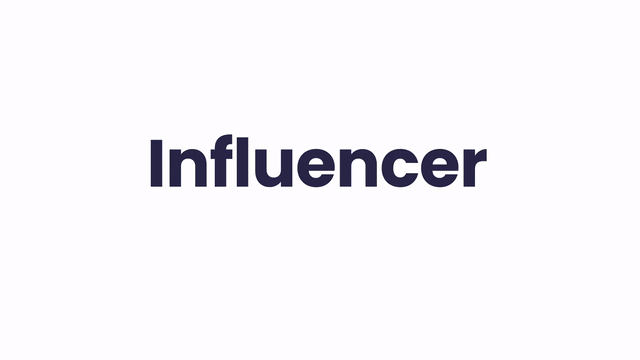 The best and fastest growing brands trust GRIN
GRIN powers the best brands in ecommerce. Our all-in-one influencer marketing software has enabled top brands to scale their influencer programs, create new sales channels and drive massive revenue numbers to their bottom line.
... and see game-changing results
0
Pieces of content per week
0
New influencer partnerships
Scale your influencer program and be ready for growth!
GRIN has allowed me to automate processes, saving me time, money and allowing me to scale my influencer programs. Before GRIN I was capped at managing a total of 200 influencers. Utilizing GRIN software has allowed me to push beyond that threshold and more.
- Lydia Lee, Affiliates & Ambassadors at nutpods
A Complete Suite for Influencer Relationship Management
Discover & Recruit
Discover and align with the best influencers using our 32m+ influencer recruitment suite - fully loaded with social listening, influential customers, lookalike tools, credibility scores and extensive filtering options.
Relationship Management
Influencers are relationships, and GRIN is the CRM to manage them. From integrated email, to influencer profiles and more, GRIN lets you build long-term partnerships with your influencers.
Influencer Payments
Track all your influencer payments per influencer or per campaign. Create affiliate links and discount codes, keep records of all payments made and measure the ROI all within GRIN.
Turn hours into minutes and streamline your influencer marketing programs
Content Management
Never chase after content again with GRIN's content media library. We make it easy to find, track and repurpose all of your content. Search by tag, post type, performance stats and even color to ramp up your campaigns.
Product Seeding
Integrate your ecom shop to sync inventory, allow influencers to personally select their products, fulfill, ship and track product without leaving your influencer management software.
Reporting & Analytics
There is no better influencer reporting than what you will find in GRIN. Custom reporting dashboards, ROI metrics and more will help you prove the success of your influencer program from content to campaign.
Loved by ecommerce brands
And we love them. GRIN helps eCommerce brands of all shapes and sizes build authentic marketing relationships that boost their bottom line.
Greg Connolly
Founder & CEO at Trifecta
"GRIN integrates everything into one, refreshingly intuitive suite, allowing my team to accomplish much more in a fraction of the time."
Keri O'Brien
Director of Marketing & Sales at Darn Good Yarn
"I have gone from 1.5 employees managing our influencer program to .5 employees all while tripling the amount of partnerships."
Andrea Faulkner Williams
Co-founder & CEO at Tubby Todd
"Finding GRIN was one of the biggest tools for our business to scale. We were able to take this one sales channel of influencer marketing and make it multiple sales channels."
Brands that count on influencer marketing count on GRIN
GRIN is scaling influencer programs for top eCommerce brands across all industries
Brands that count on influencer marketing count on GRIN
GRIN is scaling influencers for eCommerce brands across all industries